DEAD!, But keep reading!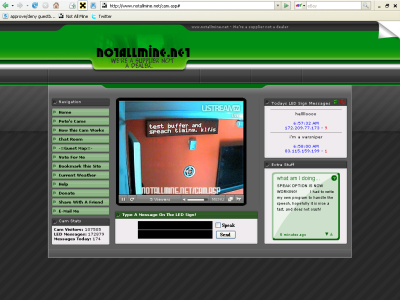 This site is no longer operating. I had a HUGE crash, that even rendered my backups useless (my fault there). I will be doing something in the future, but the LED SIGN CAM is no more.

If you feel the need to contact me, please do! my email is: PIR8RADIO (AT) NOTALLMINE.NET
Please try this site again later. If you still experience the problem, try contacting the Web site administrator. (yea don't bother it's a gonner)
---
Here is a video I took of the sign in its prime.. Getting hammered one night message after message, some "R"-RATED posts so be warned! -= VIDEO =-
Here is an archive of the old cam site from the wayback machine. -= WAY BACK MACHINE=-


We were also voted in as one of the top 25 most interesting webcams in the world for 2007!